by Anna Allport
Need last-minute theater gifts for the holiday season?
Look no further!
Craig Coursey—Manager of One Shubert Alley and Theatre Circle Gift Shops—is Broadway's Gift Guru, and he has you covered.
Read on to learn a little more about Mr. Coursey's secret gifting tips, celebrity encounters, and his picks for the 12 must-have Broadway gifts this year!
CB: You've been working in and managing One Shubert Alley and Theatre Circle Gift Shops for 35 years! What's your favorite part about the holiday season each year?
Mr. Coursey: Decorating the stores and playing all of the marvelous music that comes with the season.  This year's favorites are "Carols for a Cure" Volume 21 (carols from many of the Broadway casts), and "Christmas at Birdland," which is new this year and features the loveable Klea Blackhurst, Jim Caruso, Billy Stritch and a surprise Visit from Donny Osmond. It's fun and really swingin'!
CB: Have you had any celebrity sightings over the years?
Mr. Coursey: When I began working at One Shubert Alley, writer Aaron Sorkin was also working there. Over the years, many other famous folks have worked in or come through the doors to shop at Theatre Circle and One Shubert Alley. Jesse Tyler Ferguson—best known for his role on the TV show Modern Family—also worked in Theatre Circle. Directors Harold Prince, Jerry Zaks, and Susan Stroman have all bought scripts from the stores. Celebrities from legends Helen Hayes to Chita Rivera, Liza Minnelli to Mel Brooks, Paul Newman to Ramin Karimloo, Susan Eagan to Estelle Getty, Julie Andrews to Laura Osnes, and many, many more have visited the stores. Recently, I have really enjoyed meeting and watching the children in Broadway shows enjoy the Lights of Broadway Trading Cards. Iain Armitage, who plays young Sheldon in the TV series of that name, and Jake Ryan Flynn, who is currently in Mrs. Doubtfire, the musical, are two of the biggest fans of these cool collectable cards and of the Stores.
CB: What can customers expect to find in the store? Do the special selections at One Schubert Alley and your other Times Square gift shops change each year?
Mr. Coursey: The stores are in a constant state of flux, as all of our theater neighbors are often moving in or out of the neighborhood. There are, of course, items specifically for Christmas: ornaments, cards, and this year, we have fun stuff from The Broadway version of A Christmas Carol. Some things do stay consistent: scripts, window cards, vocal selections, and monologue books are a few things that are always consistently available.
CB: What's your secret to picking the perfect gift?
Mr. Coursey: The perfect gift doesn't just happen; one must put thought into it. I take lots of time to think about what might be ideal, and fun, and usable for the recipient. If you use that reasoning, you can wind up with the most special thing for the right person.
CB: You've hand-picked your top 12 gift items for CB readers this holiday season. What about these special gifts made them just right?
Mr. Coursey: I chose some classic staples that are good for every theater lover, like the comedy/tragedy earrings and the keyboard socks.  I also chose some items that are very unique and only available in these Stores, like the film strip book marks and our own design comedy/tragedy ball cap.  Mostly, I chose things that I know young people will and do like—and that I wouldn't mind finding under my own tree!
Without further ado, here is Mr. Coursey's list of the top 12 gifts for theater lovers this season: chosen especially for YOU, CB readers!
Gift #1: Comedy/Tragedy Earrings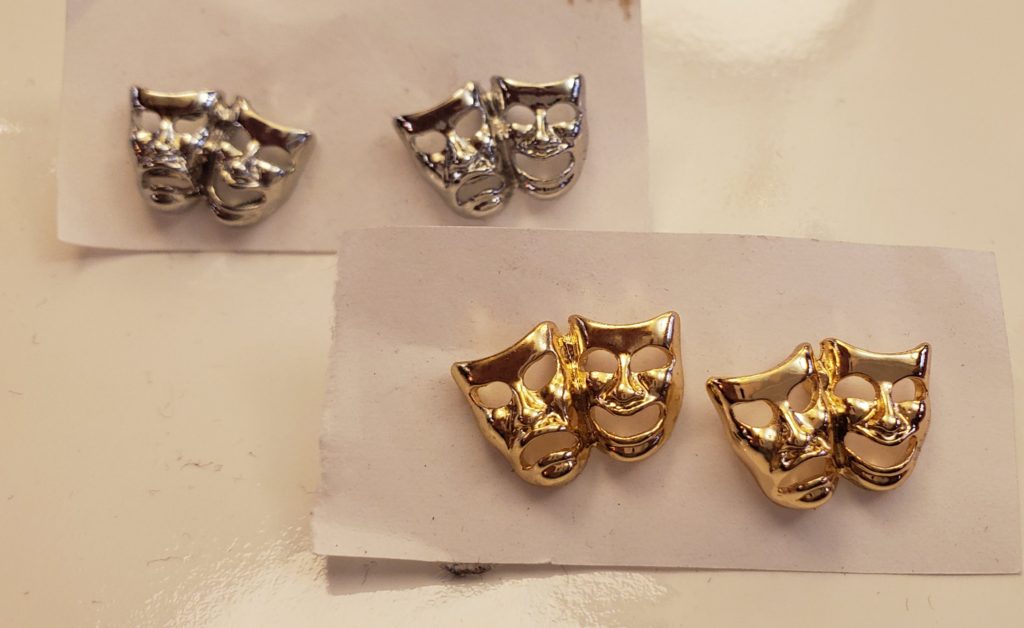 These comedy/tragedy earrings are classic, fashionable, and fun. Available in silver and gold, they're sure to show off your Broadway style.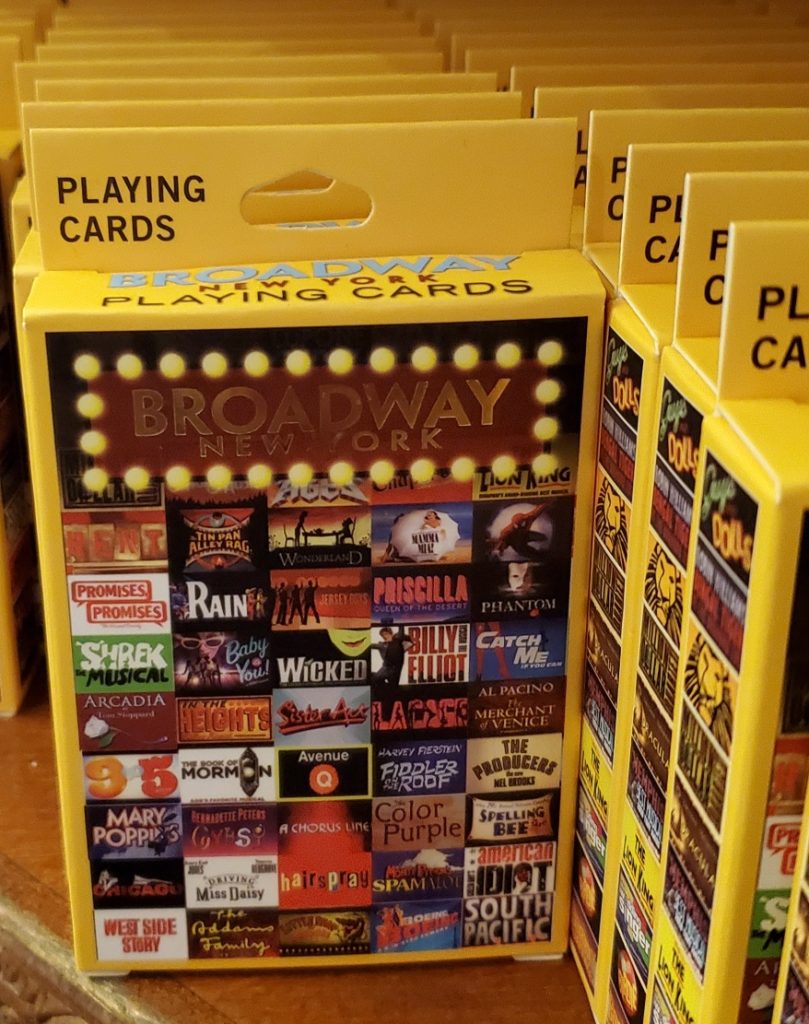 Gift #2: Broadway Playing Cards
Liven up card games with this festive deck, featuring posters and titles of fan favorite shows. Use them for traditional card games, or make up your own rules—anything goes!
Gift #3: Star Plaques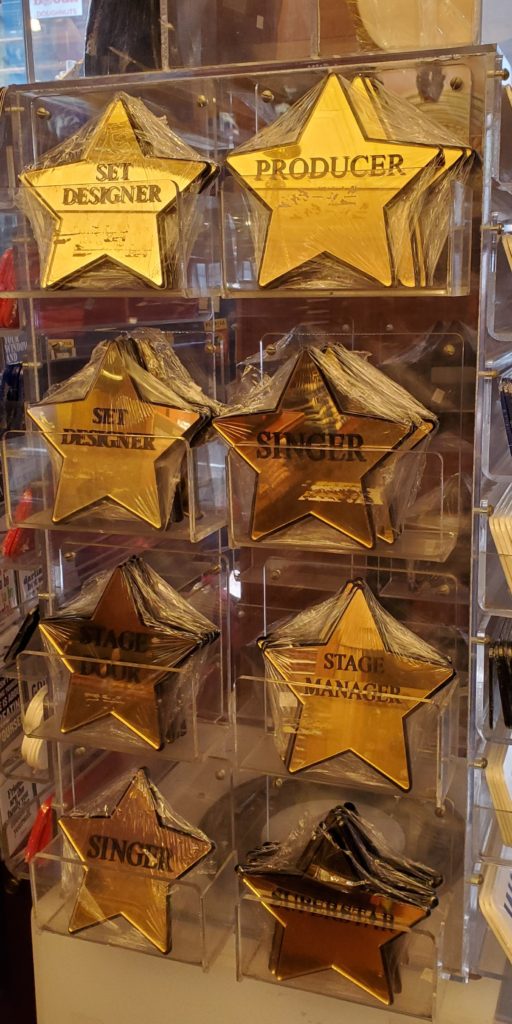 Celebrate the stars in your life by gifting them their own star plaque a la Broadway and Hollywood! Featuring an array of titles—Superstar, Singer, Stage Manager, Producer—these plaques add glitz and glam to a dressing table, desk, or anywhere else. Don't forget to pose with them for the paparazzi!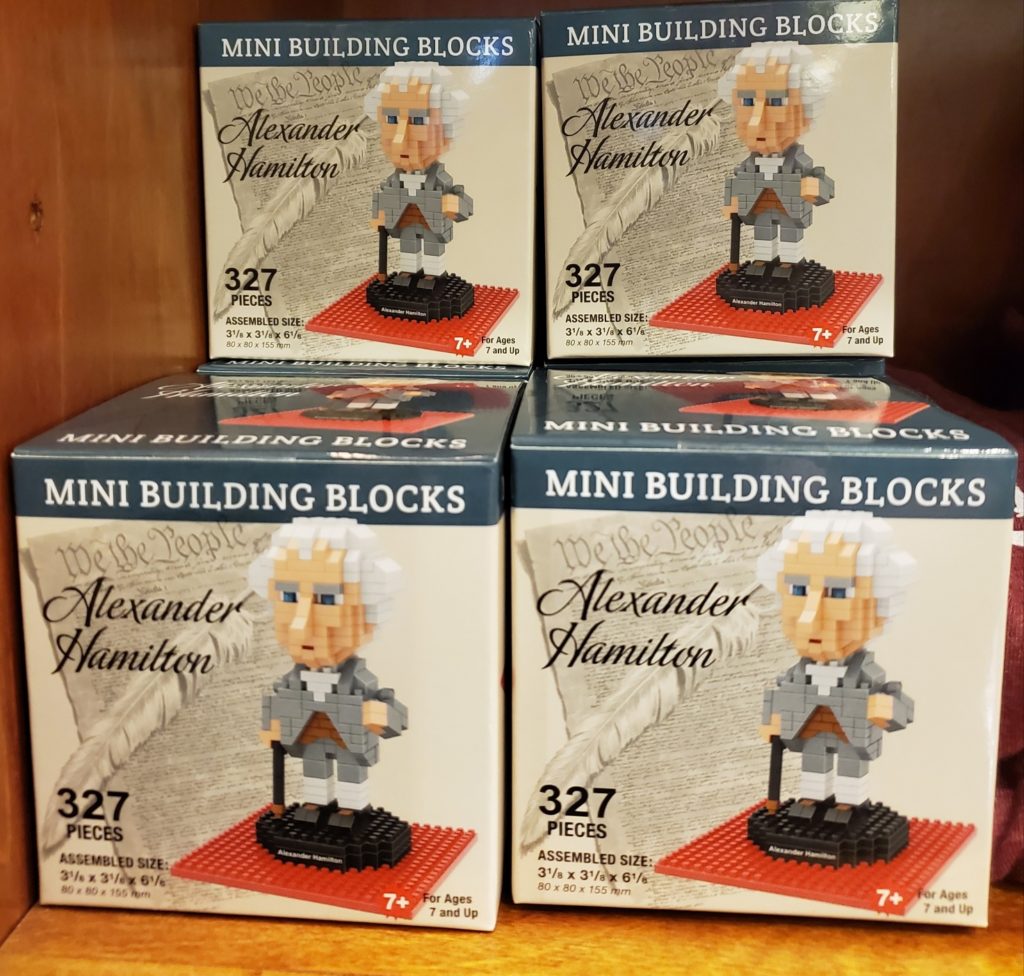 Gift #4: Alexander Hamilton Building Blocks Puzzle
Got someone on your list who knows the Hamilton soundtrack inside and out? They'll love spending time putting together this 327-piece building block puzzle of Alexander Hamilton. This gift is a great hands-on way to honor the smash Broadway musical—and the historical inspiration behind it. Don't throw away your shot to get this gift!
Gift #5: Musical Notes Bow Tie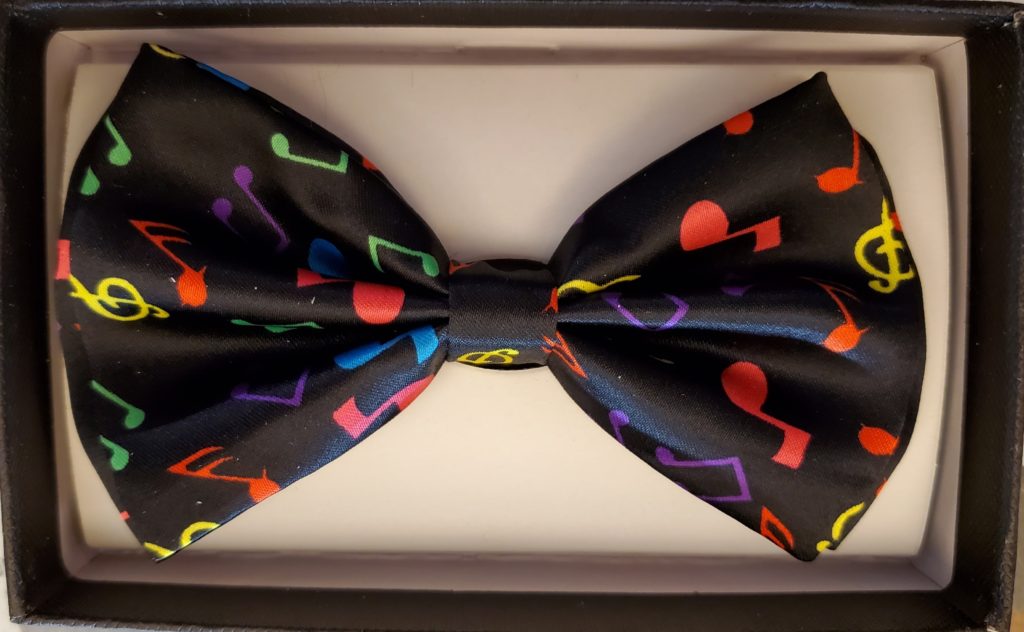 Complete your holiday party outfit with a stylish Broadway musical-themed bow tie. A stunner in classy black with pops of color, this bow tie is the perfect way to blend fashion and fun: standing ovation worthy, for sure!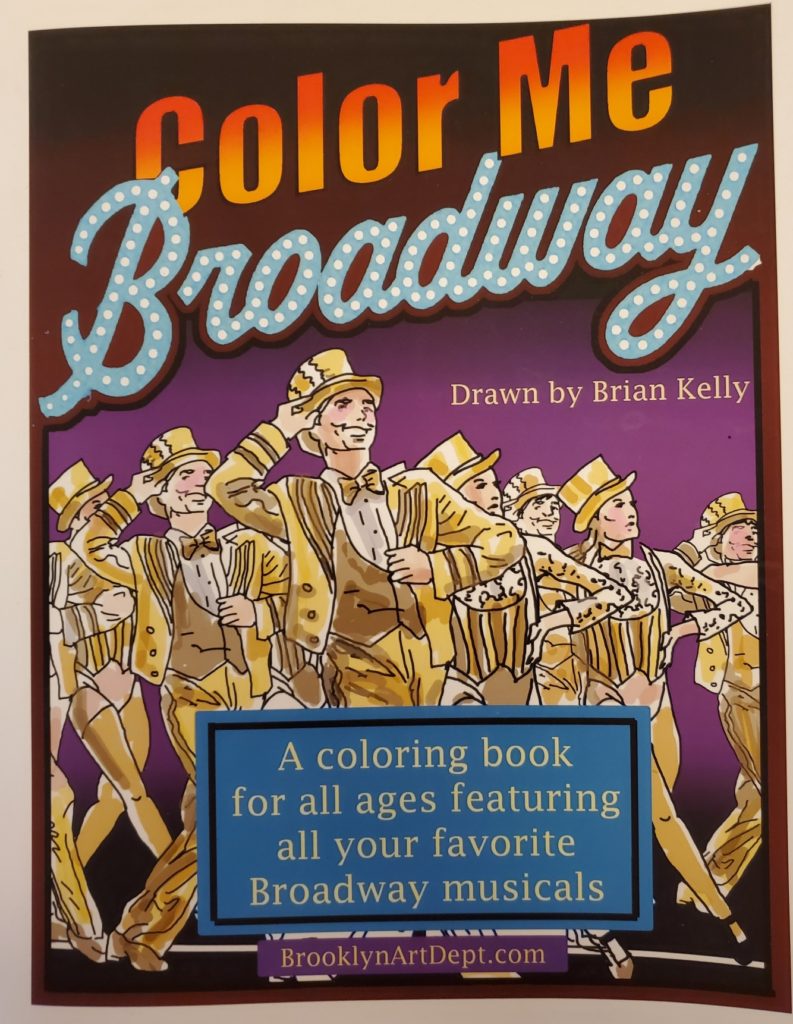 Gift #6: Color Me Broadway Coloring Book
Do you have artists on your gift list? This Broadway coloring book is perfect for creatives of all ages. Featuring scenes from top Broadway musicals, this gift is a great way to remember your favorite Broadway shows and commemorate them in brilliant, personalized color.
Gift #7: Piano Socks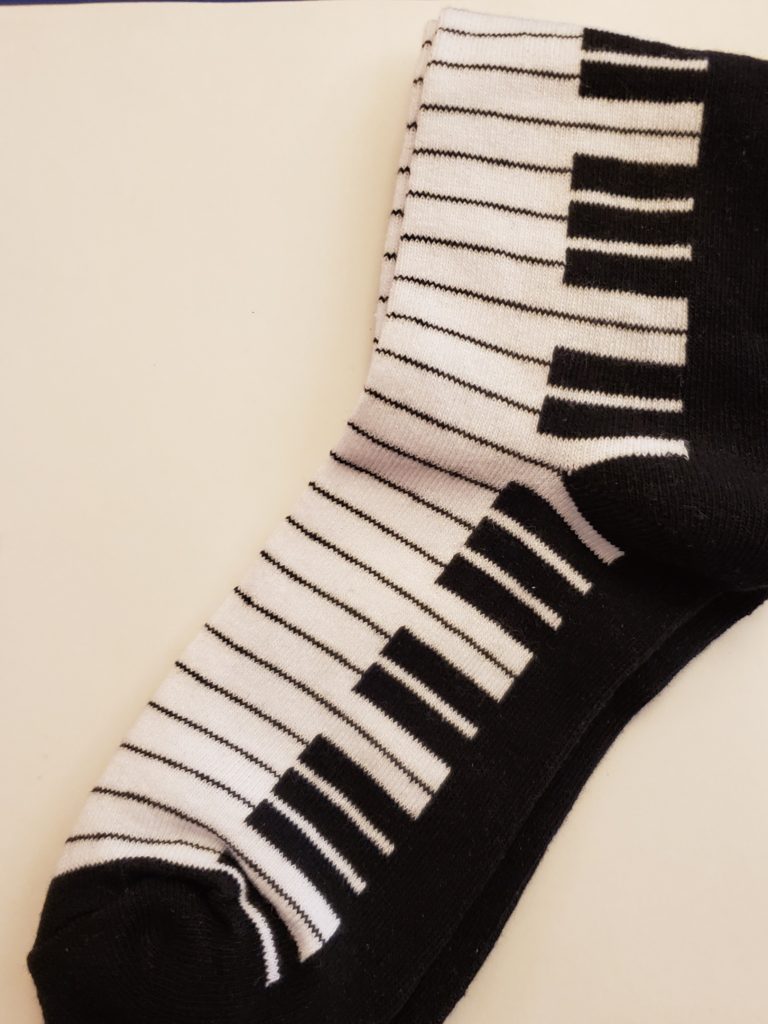 We all have someone in our lives who is a Fun Socks collector. This pair of piano socks is perfect for a musician or musical theater fan, who can imagine tickling the ivories with each step.
Gift #8: The Prom Novel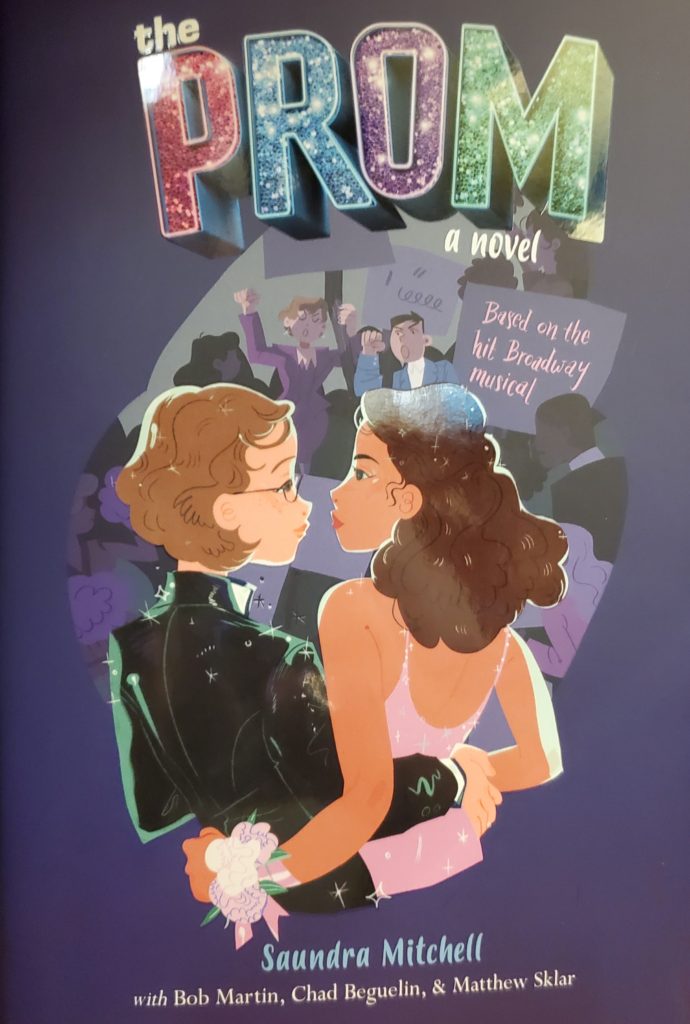 Books are presents one can open again and again. Let the theater fans on your list re-live the beautiful story of The Prom: A Novel, based on the hit Broadway musical! Featuring monologue-style writing and the storyline you love, this book is sure to inspire singing aloud and dancing til dawn!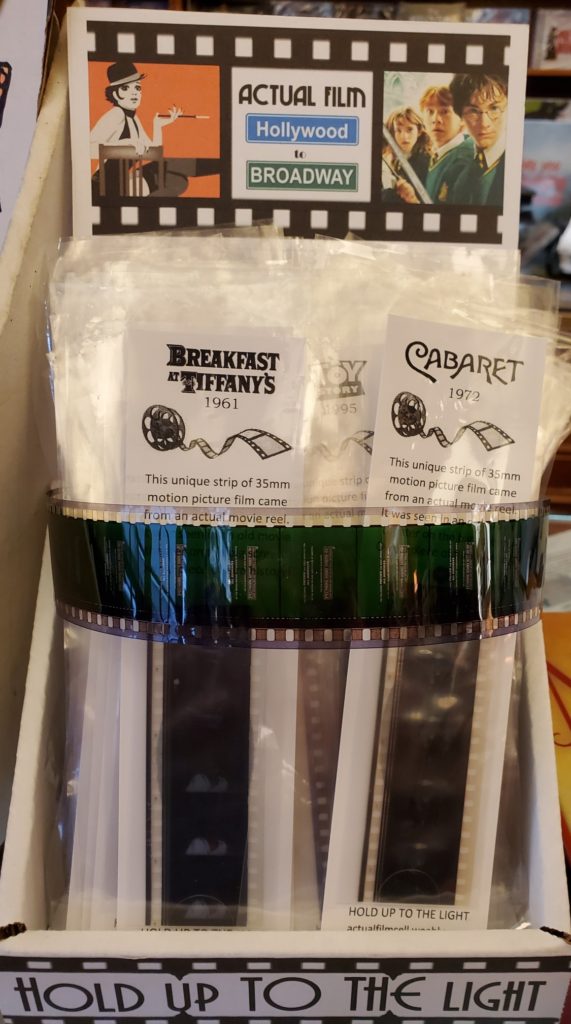 Gift #9: Film Strip Bookmarks
Another gift for the avid reader on your holiday shopping list: film strip book marks! These bookmarks feature strips of film from real movie reels: hold them up to the light and see the tiny film images appear! Each strip is unique and one-of-a-kind: a meaningful collectible gift sure to delight Broadway and movie fans alike!
Gift #10: Harry Potter and the Cursed Child Behind-the-Scenes Book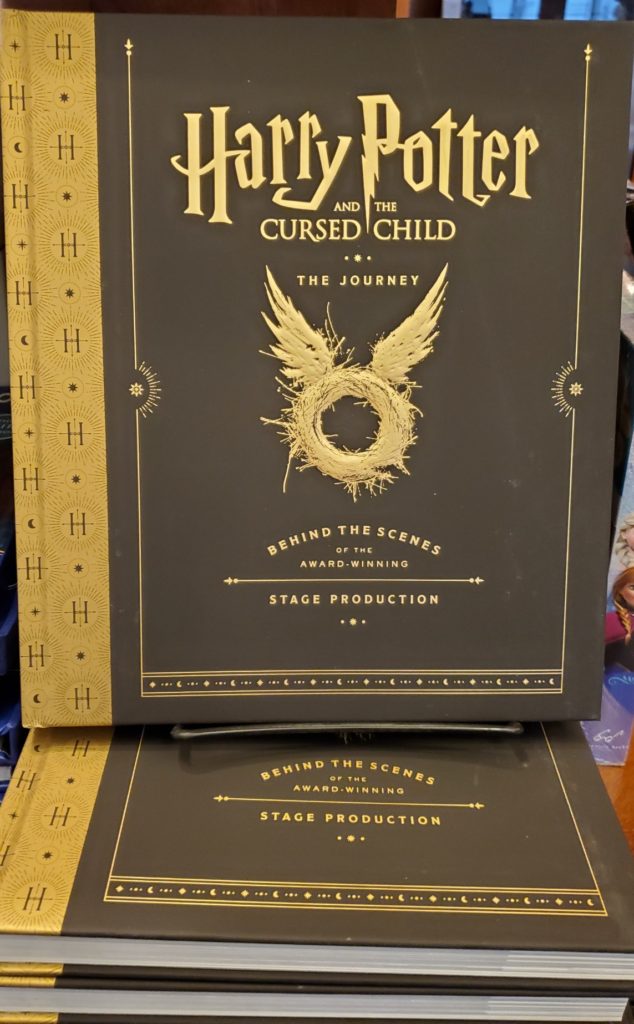 What do you get the Harry Potter fan who has all of the Harry Potter memorabilia imaginable? A behind-the-scenes book of the recent HP musical, of course! This book is a sneak peek into the making of Broadway's Harry Potter and the Cursed Child, and its stage secrets are sure to delight both HP and Broadway superfans.
Gift #11: Comedy/Tragedy Hat
Want a casual gift for a theater lover on your list? This sport cap is the ticket! Featuring comedy/tragedy masks and the word "Broadway," this one-size-fits-all hat is a great fit for every theater fan!
Gift #12: Playbill Poster Puzzle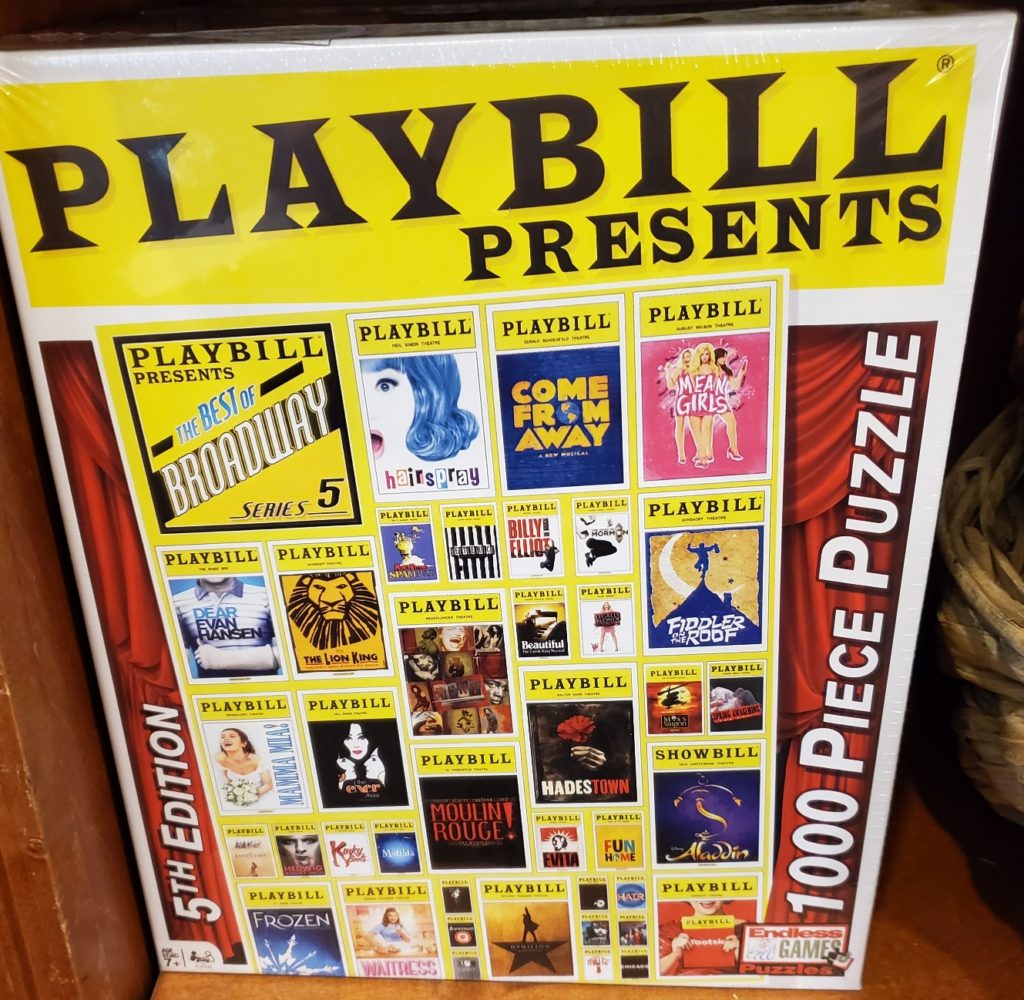 What's a great gift for puzzle fans, Playbill collectors, and/or theater superfans? A Playbill Presents: Best of Broadway Series 1000-piece puzzle, of course! Featuring playbills from some of Broadway's greatest hit shows, this puzzle is not only a delightful challenge to put together, it makes a great decorative piece to display once it's finished.
There you have it, Camp Broadway! 12 stress-free picks for holiday gifts, selected especially for you! Be sure to stop by One Shubert Alley and Theatre Circle Gift Shops for these items—and so many more fabulous finds for theater fans.
Happy Holidays—and Happy Holiday Shopping, CB readers!
Special thanks to Craig Coursey for this stress-free holiday shopping guide for Camp Broadway readers