Note from Camp Broadway:
To celebrate our 25 years, we have been listening to stories from some of our longtime collaborators, fans, and alumni. This week we are thrilled to hear from Bill Ahearn who we met in Tempe, AZ.
Are you a Camp Broadway Alumni? Join Camp Broadway Forever to stay informed with news and events. We also want to hear your story — so sign up HERE and connect with us today!
Note from Bill:
My spouse Susan and I saw our first Camp Broadway Mainstage Family Finale 20 years ago when Camp Broadway took their camp on the road and came to the Arizona State University Gammage Auditorium in Tempe, AZ. We were simply amazed by the performance and what the students and Camp Broadway staff accomplished in just 5 days.
After seeing that first Family Finale, curiosity got the best of me, and I finally asked if I could sit in on a rehearsal and see how the process worked. After that, I never went away! I spent the last 16 years volunteering at ASU Gammage in any way I could to support Camp Broadway. I dedicated my time taking pictures during the camp week so the students (and all their family and friends) could have that memory of all they had accomplished. I'm honored to share some of those photos and memories below.
Summer of 2020 was certainly different for all of us, being in the virtual world. Regardless, Camp Broadway remains one of the highlights of the year for both Susan and myself. We never get tired of seeing how the students grow during their Camp Broadway experience.
---
It was 10 years ago that marked Camp Broadway's 10th year in Tempe, and that year we were first introduced to Broadway veteran, Holly Raye. I can still envision the spectacular choreography she developed for our students!  And what was the featured show that year?  None other than Guys and Dolls! "Sit Down, You're Rocking the Boat", performed by the younger group of campers, was amazing! Since that first meeting a decade ago, it has been great to see Holly return to Tempe numerous times as the camp Director/Choreographer.
Those 10 years since Camp Broadway Mainstage last featured Guys and Dolls flew by, and I can still recall how wonderful that Family Finale performance was! So, I can't tell you how excited we were to find out Camp Broadway would have a Guys and Dolls revival for the 2020 camp! It was a treat to see Holly Raye at the helm again AND Camp Broadway's, Anna Raful, in the role of Adelaide, that she also performed at that 2010 camp! (pictured below).
It's hard to believe that so many of the girls in this picture with Anna grew up with Camp Broadway and then we watched them go off to college.
I'm really enjoying this trip down Memory Lane and looking at the photos from camps that many of the veteran Camp Broadway staff have worked on. The enthusiasm of the instructors is unwavering and was certainly not diminished this year by having to teach via the internet. It was not hard for me to imagine being in the back of the classroom with my camera, watching the Camp Broadway staff bringing out the best in our students.
Who else did we get to see again this year? Chris Lewis! Pictured here is Chris during Camp Broadway 2017 as he brought to life a great Shrek, complete with Scottish accent.
have to admit that the Camp Broadway instructors are great and their level of expertise and professionalism is 2nd to none. After all these years, I'm still learning things from them, and I've been sitting in on classes for at least 15 years. It was difficult not seeing everyone in person this year, but here are two more favorite photos that bring back some wonderful memories! First, Isaak Olsen with the kids performing All Shook Up in 2015 and second, Alexandra Carter in 42nd Street in summer 2018!
all got me thinking back to 2010 again.  Besides our pleasure in meeting Anna and Holly that year, In the Heights was performing at ASU Gammage during the week of Camp Broadway Mainstage. Our director, Colleen, worked her magic and was able to line up a very special lunchtime visitor, the only and only, Lin-Manuel Miranda! Besides Lin-Manuel being amazing, he was genuine and enthusiastic with the campers.  The students got to tour the set and pose for pictures. What a wonderful Broadway experience for them… and me! One of many personal highlights of Camp Broadway.
such a treat looking back and remembering all the highlights of Camp Broadway over the years. Virtual camp or in-person, we enjoy making new and unique memories every year with Camp Broadway, and we look forward to many more years to come to add to our 20+ year collection!
ABOUT THE AUTHOR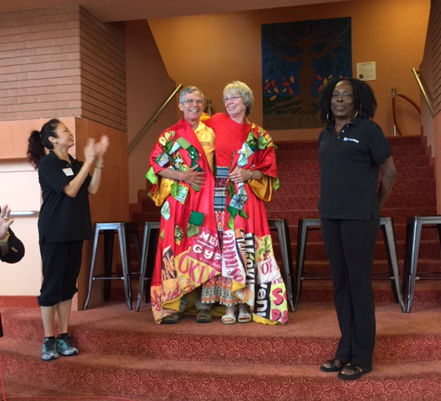 Susan and Bill Ahearn
Bill is a retired engineer (and a Vietnam veteran) and Susan an artist and longtime volunteer at the Desert Botanical Garden in Phoenix.  We both had a love of Broadway theater when we met 49 years ago and we still do, so it wasn't hard to fall in love with Camp Broadway.