AGE: 10-17
DATE: July 10 – 14, 2023
LOCATION: New York City
TUITION: $1495
Field trip to Times Square to the Gershwin Theatre where campers will learn about the production crafts at "Behind the Emerald Curtain" and attend the matinee performance of Broadway's biggest hit…
WICKED
Rehearsals held at the professional studios at
PEARL STUDIOS NYC
Family Finale Showcase at New York's famed
Symphony Space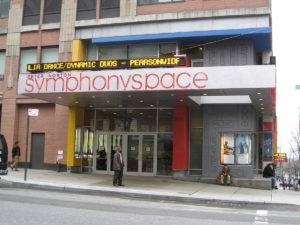 Mainstage is a 5-day camp (M-F, 8:30 am to 5:30 pm) that emphasizes the importance of the ensemble— that talented group of triple-threat performers who are the backbone of every Broadway musical. Taught by accomplished Broadway professionals with expertise in staging, choreography and music direction, campers are split into small groups (by age) and led through a rigorous rehearsal process to master songs and scenes from a beloved Broadway show they will present at the Family Finale Showcase performed on a New York stage.
Camp Broadway's signature program has been proclaimed the "Camp of Dreams." It is the original destination for theater-loving kids interested in learning about Broadway and what it means to be a creative, collaborative and contributing professional on stage and off.
Camp Broadway's mantra is Develop Your Character. Character isn't just the role one plays on stage. By their final bow, a Mainstage camper has gained confidence, honed their craft and learned that teamwork, respect for others and personal responsibility builds Good Character and a great performer in life.
To find Camp Broadway Mainstage in a city near you CLICK HERE.
Still have questions?
Write to us at info@campbroadway.com or call 212.575.2929
Partial scholarships are available for select Camp Broadway programs through Marya's Gift, an initiative sponsored by the Broadway Education Alliance
TESTIMONIALS
My son had a wonderful time and hasn't stopped talking about how much he enjoyed his experience at Camp Broadway. Once again Carmine was able to showcase his talent with your organization and I thank you.
As a parent, I want to share how thankful we are to have Camp Broadway in Madeline's and our lives…you truly make a difference and give us so many moments to remember! I honestly cannot express how wonderful it is to witness these kids committed and dedicated to their love for the arts.
Camp Broadway deserves a standing ovation for its unparalleled dedication to developing and nurturing theater-loving kids! The opportunity to train with real Broadway professionals has given my daughter, Katie, a tremendous boost in her self-confidence- it has quite simply been a life-changing experience.