If you're involved in theater with peers your age, it's bound to happen at some point… Auditioning for a role against a friend.
One of the beauties of theater is how many close bonds it can form. After spending months in rehearsal together, a cast is bound to get close- which makes the show even better! Being comfortable with your fellow performers and production team not only enhances the experience of creating the show but also allows for better communication and a more realistic air on stage. However, auditions can get tough. Nobody wants a competitive audition tugging at their friendship, creating tension that could threaten their relationship. But, unfortunately, it is simply one of the aspects of art.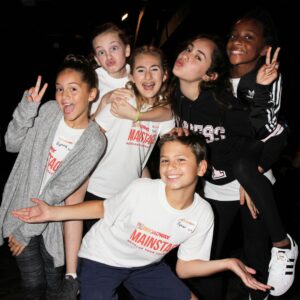 Here are a few of my tips on how to keep the "friend" in "friendly competition"!
Talk to each other beforehand! 

While you can't ask your friend to not audition for the same role, you can both talk about any concerns before the audition takes place. A great conversation starter is: "Hey, I heard you're going for (character name)! Break a leg- I bet you'll do great. I'm actually going for that role too! Whatever comes from auditions though, I'm excited to do this show together." This can provide a nice segue into a pleasant conversation about the roles in regards to your friendship. Be sure to provide each other with positive encouragement!

Say "congratulations"

Losing a role to a friend can feel awful, and it's hard not to mistake the feelings of disappointment for feelings of betrayal. It's okay to feel sad that the casting didn't go the way you'd hope! However, it's important to remind yourself that it's not anybody's fault. Maybe your friend had an element in their audition that the directors really liked or a look that stood out to them. Casting is based on an endless list of qualities. The outcome doesn't mean that the friend is a better performer than you, or tried to snatch the role away from you intentionally. If you get cast elsewhere in the show, maybe the directors thought you'd be perfect in another spot that they have in mind! While it may feel hard, it's important to congratulate the friend when you feel ready, so they aren't worried about any "bad blood" either.

Feel proud of yourself! 

Maybe you didn't quite land that role this time around, but that's what "dream role" lists are for! Everybody keeps a note containing all the roles they hope to play one day (or, maybe that's just me?) Keep an eye on your goals and remember that every experience in the theater will help you grow as a performer. Feel proud that you rehearsed so much and brought your best effort forward! If you didn't make it into the show this time around, then you'll have a little extra time to jam out to all the karaoke you want in preparation for your next starring role!
But… try not to brag. 

On the flip-side, landing a dream role can feel BEYOND exciting! After receiving the news that you're playing the part you worked hard for, it's natural to want to tell the whole world! However, it's important to take a second. A respectable announcement post on social media (ie: "I feel excited and honored to be playing the role of ___ in ____'s production of ___!") can be made if you want to spread the word of your upcoming endeavors- but give it a day or two. Let all those who auditioned to be informed of their casting first. When you're around other people in the production (especially the friend you competed against), try not to talk about your role too much. Nobody likes when a castmate acts arrogant, but people definitely will notice when you act down-to-earth. If you're around friends that didn't make it into the show, try not to bring up rehearsals unless they ask!
While a show will only last for a few months, many friendships last a lifetime. Losing a friendship because of competitive casting can be avoided if you both put your best attitude forward and make an active effort to maintain the quality of relationship you share!
Break legs at your next audition, Camp Broadway, and remember to keep those close who "leave handprints on your heart".