by Holly Raye
In 1992, Guys and Dolls directed by Jerry Zaks, starring Faith Prince, Nathan Lane opened on Broadway. I didn't have an opportunity to audition for the original cast as I was on tour with another show for two years during that time. On a tour break, I went back to NYC and got tickets for the show. I was breathless waiting for it to start and almost unable to contain my desire to part of the cast! As I watched the exceptional performances, particularly the chorus, I was taken by the level of precision and heart in the choreography. I knew in my gut that this was going to be my first Broadway show, and I wanted it bad
Three months later I found myself on break from tour once again and went to an open call for a swing position in Guys and Dolls. I was cut after the first combination! "Surely they had made a mistake," I thought. My fears were confirmed when choreographer, Chris Chadman, walked directly over to me, took my hand in his, and said, "thank you for coming." My heart sank as I left the room feeling defeated and questioning my intuition. Ultimately, it was a friend of mine that was given the swing position, and I was very happy for her.
Six months later I returned from tour and started auditioning for anything to keep myself in New York City. My first week back I auditioned at Radio City Music Hall for the Easter Show and that same day went to the Winter Garden Theatre for my first ever attempt at Cats where I was let go after singing. But later that afternoon I received a call from casting director, Tara Rubin, who saw me at the Cats audition. She invited me to a private call for a replacement for Guys and Dolls!
I was one of only four girls being considered. The other actresses were brunette and shorter. I could tell Mr. Chadman really liked one girl in particular, but I gave it my all and felt really good about my performance. The next day I got a call from Tara Rubin saying I got the replacement position in Guys and Dolls.  I was shocked and overjoyed! I later found out they had originally cast another dancer, but she was signed for a show at Papermill Playhouse and was not allowed to break her contract.
I was thrilled at the opportunity to make my Broadway debut in THE show I always knew would be mine one day, even if it was as a replacement. Eventually, I was asked to join the cast permanently and I stayed with the show until it closed two years later.
The moral of the story is…you are never really auditioning for what you think! If I had not gone to the Cats audition, I would not have been invited to the private call for Guys and Dolls. That's why it's so important to show up and do your best. The rest will fall into place exactly when it's right and when you are ready! Let go of the attachment to what you think should happen and always share the joy and celebrate the successes of those around you.
Some of my favorite moments: 
Sneaking into the downstage left wing to watch whenever Wade Williams was on for Sky Masterson. His chemistry with Kim Crosby as Miss Sarah was palpable. I can still feel it! Watching them in their scenes together was magical.
My friendship with JK Simmons. He played Benny Southstreet and is an incredible guy. He is now an Oscar-winning film actor!
Watching Walter Bobbie wipe the sweat from his forehead with a handkerchief after "Sit Down, You're Rockin' the Boat" and muttering under his breath, "I'm getting too old for this…"
Watching Faith Prince in "Adelaide's Lament" break the fourth wall when someone from the audience sneezes loudly during her song.
Chris Chadman giving me the Havana Dance Specialty, because "I asked for it".
Mark Esposito, dance captain, set the bar very high for this honored position.
My favorite Sky Masterson, Tom Wopat, entering the theatre at half-hour…cough once and give the perfect performance.  He never missed a show his entire contract!
All the "Dolls" showering me with gifts in the dressing room on my 30th birthday!
I still have my "Take Back Your Mink" shoes
Celebrating the Tony Award-winning successes of my fellow cast members, Andy Blankenbueller and Sergio Trujillo.
In 2000, six years after Guys and Dolls closed, I was reunited with several of my cast members and Director, Jerry Zaks, on the Broadway show Swing.
ABOUT THE AUTHOR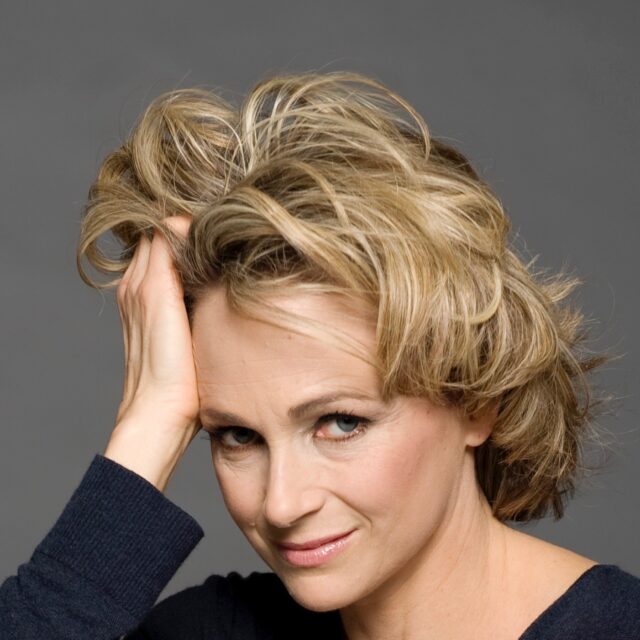 Holly Raye
Holly Raye Originally from the suburbs of Detroit, Michigan, Holly received a scholarship to the Boston School of Ballet (Boston Ballet Company) at the age of 14. After placing runner-up in the 1984 Miss Michigan Pageant (Miss America Brand) she headed to NYC to pursue her love of dance and theatre.
Some of her performing highlights include:
Broadway: Swing, Guys and Dolls, and Dream & Nightmares starring Master Illusionist David Copperfield. Holly was featured in five of Mr. Copperfield's Emmy-winning CBS TV Specials. She was dance captain for the world premiere of Houdini: The Musical at the Segal Center for the Performing Arts in Montreal. She's been featured in the Radio City Music Hall Christmas Spectacular, The Tony Awards, Cabaret, and Disney Live Productions of Hercules and The Little Mermaid.
Holly has had the honor of performing alongside Liza Minelli, Shirley MacLaine, dance coach to Penelope Cruz and assistant choreographer for the film Vanilla Sky.
Holly has been choreographing and directing for Drama Desk Award-winning company, Camp Broadway® since 2007. Holly was the director and choreographer for the Joci Awards (2015, 2016) at the Empire Theatre in San Antonio, and Before Broadway, a cabaret intensive for young adult pre-professionals at Feinstein's 54 Below in NYC. She also choreographed performances at Madison Square Garden for kids during the WNBA Liberty basketball games.
Favorite career moments:
Principal dancer in the TV Series FAME and presenting Oprah Winfrey with the Elie Wiesel Humanitarian Award.
Now living in Maplewood, NJ with her son Leo, Holly is the Producing Director for Franklin Elementary School Musicals in Summit, NJ.