Enjoy

the latest features from our DEVELOP YOUR CHARACTER series!
CLICK HERE

for stories, blog features, and all things Broadway /

CLICK HERE

for Podcasts
Stay Informed! CLICK HERE to sign up for the Camp Broadway E-Newsletter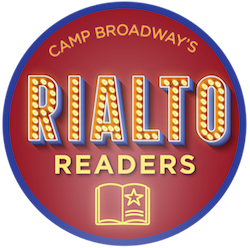 A FREE online book club for young readers, ages 7 -17, who are interested in the performing arts, entertainment, and culture.
TESTIMONIALS
My 7-year-old Laila had a blast. I loved how at such a young age, the kids are exposed to all aspects needed to create a musical. Beyond acting, dancing, and singing Laila learned about elements related to the script, set design, and costumes.
Camp Broadway deserves a standing ovation for its unparalleled dedication to developing and nurturing theater-loving kids! The opportunity to train with real Broadway professionals has given my daughter, Katie, a tremendous boost in her self-confidence- it has quite simply been a life-changing experience.
As a parent, I want to share how thankful we are to have Camp Broadway in Madeline's and our lives…you truly make a difference and give us so many moments to remember! I honestly cannot express how wonderful it is to witness these kids committed and dedicated to their love for the arts.
❮
❯