Written by Ericka Correia
Teens of all ages struggle with self-confidence. This can range from peer pressure and a need for social acceptance to the role that social media plays on a young person's self-esteem. Sadly, this limits their ability to realize their talents and reach their dreams. I know this because I was always quiet and reserved – until I discovered the performing arts as an outlet. Performing in dance and theatre pushed me out of my comfort zone and allowed me to realize that individuality and believing in myself isn't as challenging as it seems. Today, the arts have become an important part of my identity, and it's my mission to share them with others.
My self-confidence developed with the help of many mentors and experiences. Camp Broadway was certainly one of the most influential. I attended the camp for three years at the Providence Performing Arts Center. Each summer I looked forward to learning from the many talented instructors and lead performers. I made new friendships with others that shared my passion for the arts. I improved my singing, dancing, and acting skills, not to mention how exciting it was to grace the same big stage where I watched so many musicals. I took part in several productions at Camp Broadway, but my favorite was Seussical. I was looking forward to performing with the Camp Broadway Kids Ensemble this year until COVID ruined my chance, but I hope others will take advantage of the many amazing opportunities through Camp Broadway.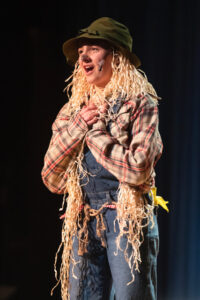 I have been dancing for ten years, performing in chorus since I was in the third grade, and acting in theatre both in and outside of school for many years. My most challenging role was when I played Timon in The Lion King and was asked to operate a life-size puppet in addition to performing. My dream role is to play Glinda in Wicked since it is my favorite musical and I would love to portray her lively character.
Camp Broadway's training provided me the confidence to also share my talent by competing in scholarship pageants. I am part of the Miss America Organization and currently hold my second local title, as Miss New Bedford's Outstanding Teen. In May, I will be competing in the Miss Massachusetts Outstanding Teen pageant. I have to interview in front of judges, answer an onstage question, and perform my tap dance talent. Thanks to experiences like pageants and Camp Broadway I have developed leadership skills and the confidence to share my passion. In fact, I have been volunteering to teach dance virtually during the pandemic to girls at a local YWCA,  I have been a dance instructor for young children for 5 years, and I choreograph for the middle school theatre company in my school district. My pageant platform, Next Stop, Broadway, comes from the mindset of putting yourself out there and not being afraid to give it your all. Although I may or may not make it to Broadway, the fact that I dare to dream and express myself through the performing arts has led me to many rewarding moments.